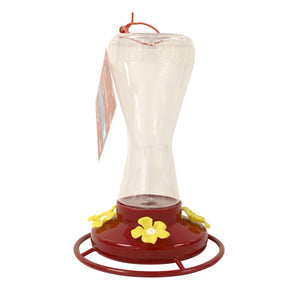 Heath HUM141: 18-ounce Hummingbird Feeder for Nectar
#HUM141
---
Heath's Hummingbird feeder holds up to 18 ounces of nectar and has 4 feeding ports. A full perch ring allows multiple birds to land. It's easy to fill and clean and the wire hanger is included.
Holds 18 ounces of nectar
4 feeding ports and full perch ring
Easy to clean and fill
Wire hanger included
Weight: 0.3 pounds
Length: 6.25 inches
Width: 6.25 inches
Height: 8.5 inches
Warning: Cancer and Reproductive Harm.
Advertencia: Cáncer y Daños Reproductivos.
Avertissement: Cancer et Dommages Reproductifs.
www.P65Warnings.ca.gov.
---
Related Products