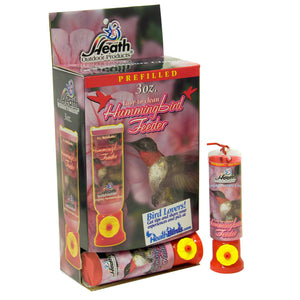 Heath HUMF23: 3-ounce Ready to Fill Hummingbird Feeder
#HUMF23
---
Heath's small, 3 ounce Hummingbird feeder is perfect to keep territorial hummingbirds from dominating the feeder. Many small feeders can be placed in multiple locations. It's single port feeder that is easy to clean and refill.
Small, 3 ounce feeder
Single port
Stop territorial birds from taking over one feeder
Easy to clean and refill
Weight: 0.08 pounds
Length: 1.5 inches
Width: 1.5 inches
Height: 5.5 inches 
Warning: Cancer and Reproductive Harm.
Advertencia: Cáncer y Daños Reproductivos.
Avertissement: Cancer et Dommages Reproductifs.
www.P65Warnings.ca.gov.
---
Related Products